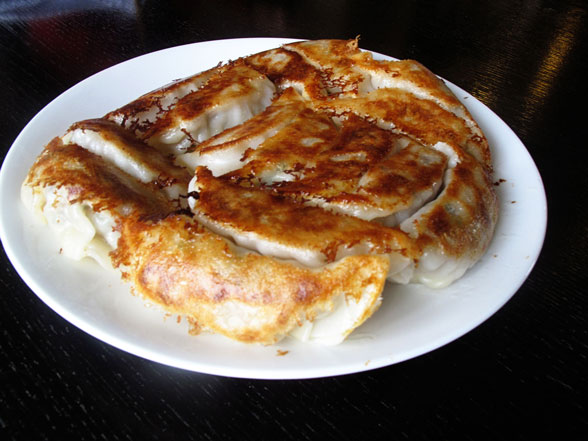 Prep time: 40 mins
Cook time: 20 mins
Total time: 1 hour
1 pound ground dark meat chicken
1 cup chopped scallions (3-4 pieces)
1 cup chopped dried shiitake mushrooms
¾ cup chopped fresh water chestnuts (about 4 pieces)
2 cups chopped napa cabbage
1½ teaspoons salt (2 teaspoons if not serving dumping sauce)
2 tablespoons corn starch
2 tablespoons sesame oil
1 egg
canola oil
To make the filling, combine the chicken meat, scallions, mushrooms, water chestnuts, napa cabbage, salt, corn starch, and sesame oil in a large mixing bowl. Thoroughly mix.
Prepare to wrap dumplings by beating the egg in a small bowl. Grab a tray to put your wrapped dumplings. If you planning to freeze all or some of the dumplings, line a tray with plastic wrap or parchment paper. Make sure the dumplings do not touch and are all "sitting" by themselves. Freeze the dumplings for 1 hour and then place in a freezer bag for up to 3 months. Label the bag with today's date.
To wrap dumplings, scoop a heaping teaspoon of filling into the center of the dumpling skin, use your fingers to brush the egg wash around the edge of the skin, fold the skin in half, and close with three pleats at the top. Pinch the edge tightly to make sure it is completely closed. Place firmly on hard surface to make sure dumpling "sits" on its own. Continue these steps until there is no more filling. Will make 40 - 50 dumplings depending on the amount of filling used in each dumpling.
To cook the dumplings, coat the bottom of a non-stick pan with canola oil, then fill the bottom of the pan with dumplings. The dumplings should be lined up snug. In a 10" pan, use 1 tablespoon of oil and fill with least 11 dumplings. Cover the dumplings half way with water. Put cover on pan and cook on medium heat. After fifteen minutes open the cover and make sure most of the water has disappeared. Wait 5-10 more minutes and the dumplings should be done. Make sure the bottoms are crispy and brown. Keep cooking until you get this.
To get the dumplings out of the pan, you can (1) take them out one-by-one with a chopstick or tong. (2) Loosen the dumplings on the edge from the bottom of the pan with chopsticks or a wooden spatula. Grab a large dinner plate (10″) and cover the dumplings in the pan. Flip the pan over so all the dumplings come out of the pan at once. This makes a beautiful presentation of the dumplings.